IR Thermography of Electrical Equipment
Infrared (IR) scanning is a noninvasive substation inspection technique. It uses a thermal imaging camera to detect high levels of heat—one of your transformer's top three enemies—emitted in the form of infrared radiation. The camera can also identify cold spots that should be hot, which could indicate a problem. Early fault detection helps prevent permanent damage to your transformer, switchgear, and other substation equipment and the unplanned downtime that comes with it.
Understand asset condition—better
If a picture is worth a thousand words, a thermal image is worth even more. When used in conjunction with liquid testing and visual inspection, IR scanning provides additional data points for a comprehensive snapshot of your asset's condition. Transformer liquid testing is a robust testing method, but it is not exhaustive. IR scanning is a proven complement that can be performed on energized equipment at the same time as liquid sampling with minimal disruption and can provide a substantially clearer understanding of potential failure modes.  
Bushing hot spot
Find out how IR scanning helped an industrial customer in New York identify a potentially unsafe, costly bushing hot spot and plan a scheduled replacement.
Main tank deficiency
IR scanning aided the Dissolved Gas Analysis for a Pennsylvania-based company, identifying a potential transformer deficiency and supporting strategic reliability planning.
Cooling system failure mode
See how IR scanning helped a Michigan-based customer detect low liquid levels and a faulty gauge to avoid overheating and potential transformer failure.
Detect problems you never knew you had
IR scanning can identify failure modes not detected by liquid testing and can add the clarity needed to address anomalies that liquid testing does uncover. By analyzing substation thermal images, it is possible to detect:
Overloading
Unbalanced loads
Low liquid levels
Defects or issues in cooling systems and radiators
Oil circulation issues
Malfunctioning temperature or level gauges
Hot spots

Tank
Bushing
Loose or faulty connections
Load tap changer (LTC) and no-load tap changers (NLTC)
Our IR thermography process
SDMyers makes IR scanning of electrical equipment as easy as 1-2-3. Here's how we do it:
A mobile diagnostic technician scans your equipment from every critical angle and transmits the thermal images for analysis (along with equipment and load data)
A specialist analyzes the images, noting anomalies, and uploads them to your Transformer Dashboard for easy access and review
We send you a detailed report that includes any recommendations on what to do next
IR Windows ensure safe IR thermography
IR scanning is a non-contact inspection, but non-contact does not mean risk free. To be accurate, IR thermography must be performed on energized equipment—which involves opening energized switchgear, breaker panels, and cabinet transformer doors, increasing the risk of arc flash. IR windows offer a safer alternative that comes with less time, less PPE, and less risk. SDMyers can help install IR windows on your cabinet transformer doors, as well as your metal-enclosed and metal-clad switchgear.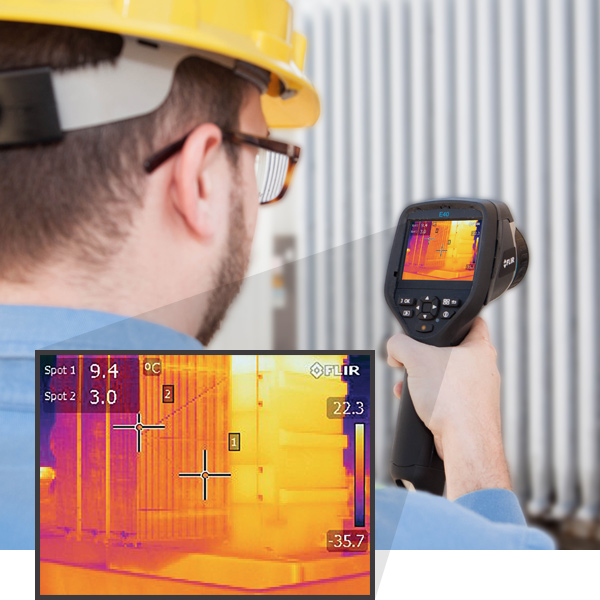 Add IR scanning to your annual sampling and inspection plan
Capturing thermal images at the same time as your sampling creates a much more in-depth look at your transformer's health. All of our mobile diagnostic technicians are trained and equipped to perform IR scanning—why not take advantage when they are already at your facility? Simply contact your Diagnostic Analytical Coordinator or fill in this quick form to get started.