Transformer Dashboard Premium
In addition to the standard functionality of Transformer Dashboard, a Premium subscription gives you immediate access to four additional tools that will provide more insight into the overall health of your equipment:
Health Center -- Prioritize maintenance and take control over your reliability plan.
Comparison Tool -- Compare your data and contextualize the health score of your equipment alongside similar equipment in your industry.
Data Export -- Download your data in a whole host of formats to fit the way you work.
Fleet View -- For larger fleets, rank your equipment and assign regional responsibility, so reports reach the correct contact -- automatically.

And the best part? Your subscription to Transformer Dashboard Premium doesn't require downloading new software or learning an entirely new system. By contrast, this valuable service is seamlessly integrated into the Transformer Dashboard, our web-based transformer management tool.  
Having trouble viewing this YouTube video, please watch on Vimeo.
health center
As in all of life, knowledge is essential to making good decisions. The Health Center is the answer to the often-asked questions, "If you could rate my transformer's level of risk and reliability, what would it be?" or "Does an Unacceptable test result mean that my transformer itself is unacceptable?
The Health Center provides you with the answers to those questions by showing a snapshot of the overall condition information on any of your transformers, assessed and prioritized according to their risk level. By combining your test results with data gathered from your transformer's history, our engineers have developed a four-level rating system to inform you of your transformer's overall health: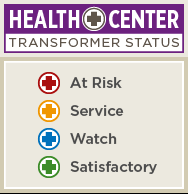 At Risk: transformers require immediate attention.
Service: transformers are in need of service, retesting or further evaluation.
Watch: transformers need more frequent testing and continued observation.
Satisfactory: Transformers only require normal annual testing.


This information allows you to:
Audit the specific level of risk for any of the transformers in your fleet
Prioritize your maintenance allocations with greater judgment
Ensure your most critical transformers are receiving the attention they deserve
Economize on the amount of time that is associated with interpreting your data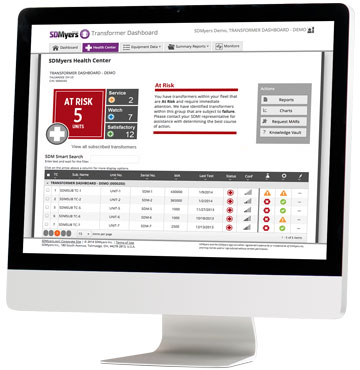 comparison tool
An SDMyers survey revealed that 85% of our customers use comparative data to make maintenance decisions. We responded by offering you access to our 50-plus years of transformer maintenance data. compare your test results to millions of other test results based on:
Equipment manufacturer
Voltage class
Application
Fluid type
Industry
The Comparison Tool helps you determine if your results are normal, if you are, more or less, at risk of a transformer failure than your competitors, how severe your transformer issue is, and if your transformer reliability plan is as robust as others in your industry.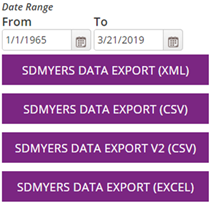 data export
Download your test data into different formats, including csv, sml, and others. We know that you utilize a variety of systems among users when analyzing your data. SDMyers makes that transfer seamless.
fleet view
Is your organization or facility organized into multiple areas of responsibility? With Fleet View, we work with you to create a hierarchy of every facility or piece of equipment and assign unique responsibility centers so that alerts, email and reports reach the proper contact in the proper region, automatically.
Subscription plans to suit your management needs and budgets
As an existing SDMyers customer, you will continue to receive expert maintenance recommendations with your test results. Only now, as a Transformer Dashboard Premium subscriber, the condition evaluations you receive will enable you to compare your risk and take quick, decisive action.
Since transformer management can take a variety of approaches, we've designed our subscription levels to accommodate your needs. If you have a significant number of transformers in your fleet, an excellent way to begin is to designate equipment critical to your production output. A subscription to the Health Center including these critical units will ensure you're well informed of their current status and better protected from unwanted surprises.
And since transformer condition can change rapidly, especially given diverse maintenance practices, a more comprehensive approach would be to subscribe every asset across your fleet. This strategy offers the greatest peace of mind in knowing the status of each unit and building a reliability-focused maintenance plan.
So then, what's the next step?
Get Pricing & Subscription Information
Thank you for your interest in SDMyers' Transformer Dashboard Premium. We're doing our best to help you manage your electric power assets and increase the reliability of your production system.
SDMyers … Intelligent Transformer Management.