Transformer Moisture Reduction Service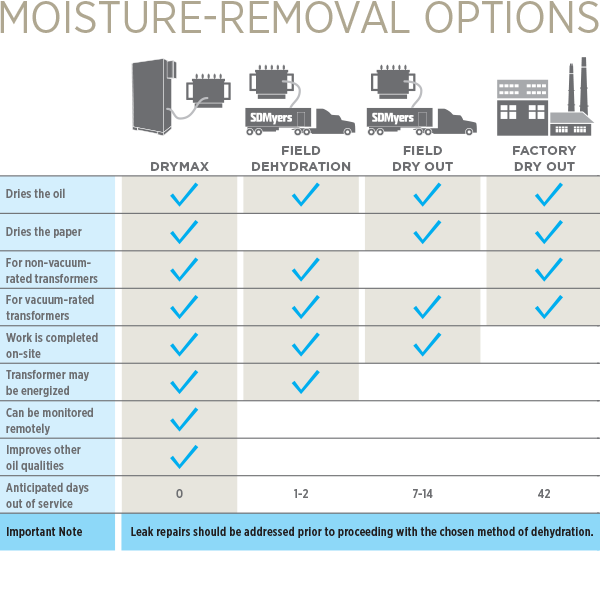 Moisture causes severe and irreversible damage to insulation
Every time the moisture content doubles, the paper's lifespan is cut in half. And every year you delay fixing the problem, you lose approximately two years of reliable service. Degraded paper also increases your risk of flashover and dielectric failure. Utilize DryMax® technology as part of a Moisture Reduction Service and you can increase the reliable life of your transformer.
Stay powered on with an energized transformer moisture reduction solution
DryMax is an energized online dryer solution. DryMax connects directly to your live transformer for as long as it takes to completely remove moisture. Upon installation, it immediately starts preventing further degradation of your paper insulation to improve your transformer reliability.
Equipment to tackle moisture removal and acids
If your transformer shows signs of acid content as well as moisture, InsulMax™ can tackle both. InsulMax processes oil online in much the same way as DryMax does. It works as an oil purifier for use on in-service electrical mobile transformers to remove acids.
WATCH SAFE AND RELIABLE DISCUSS THE MOST EFFECTIVE TRANSFORMER DRYING OPTION
There are four methods for moisture reduction, but, chances are, three of the four are not a good fit for your needs. Reliable explains how DryMax® online dryers allow you to remove the moisture from your transformer's paper insulation while staying energized.
Transformer Moisture Reduction Service Plans
A DryMax® Moisture Reduction plan tackles moisture holistically and aggressively, protecting your entire fleet for its entire lifespan without a single day of downtime.
Such a comprehensive approach involves monitoring and removing the moisture from your transformer until the PPM reaches and acceptable and stable level.
A fleet-wide plan can include both service-only dryouts and DryMax ownership to meet the needs of your equipment, typically involving a combination of the following programs:
Service-Only
Recommended if you have multiple transformers with immediate needs
All the benefits of remedial moisture reduction without the long-term commitment of multiple unit purchases
The same dedicated service from SDMyers as ownership programs
Permanent Installation
Recommended for critical transformers and equipment under extremely demanding loads
One transformer, one DryMax
Dedicated DryMax unit and service package
Installed for the lifetime of the transformer
Mobile Installation
Recommended for customers with multiple wet transformers
Addresses needs of the entire fleet
Removes and refits your DryMax units to multiple transformers as needed
Equipment Redeployment
Recommended for customers who already own a DryMax unit
Updates your unit with a remote monitor
Services and installs unit with a full-service plan​
Collaborate with transformer experts
Work alongside our reliability experts and focus on a complete solution – not a single problem. Chances are that if one of your transformers is generating moisture alerts, the rest are only a step behind. That's why SDMyers wants our relationship to be about collaboration – not transactions. We can work closely with you to understand your operating reality and tailor a proactive plan that protects your entire fleet for its entire lifespan.
Get In Touch
TAKE CONTROL OF TRANSFORMER RELIABILITY.
Questions about how a wet transformer affects your bottom line? More than half a century of transformer maintenance experience is a click or a call away. If transformer reliability is your responsibility, we're ready to collaborate with you and keep your operation running.
Call Today: (330) 630 7000