Is your transformer healthy and reliable?
Transformer Oil Testing
Testing all types of dielectric insulating liquids to maximize transformer reliability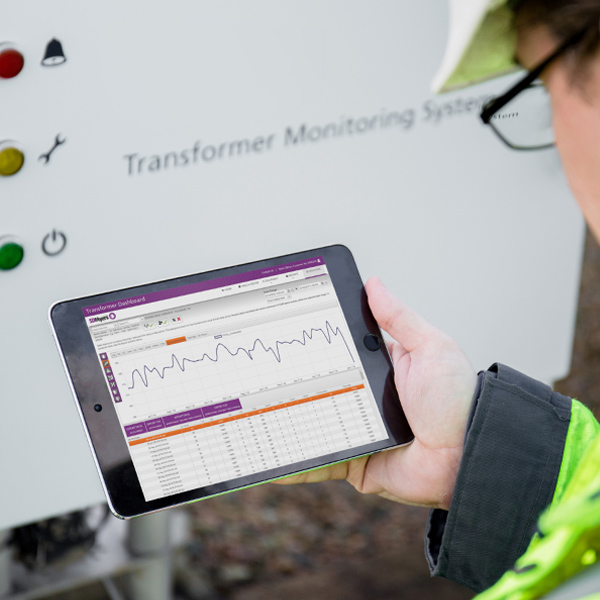 Are Your Transformers at Risk?
The dielectric insulating liquid contains vital information about the health of a transformer. Regardless of the type of liquid—transformer mineral oil, natural esters, or synthetic liquid—not knowing its condition could mean your transformer is at risk of failure (and you won't see it coming!).
What is the moisture level of the transformer's insulating materials?
Have dissolved combustible gases formed?
What are the hydrogen gas concentrations of the liquid?
What are the ratios of carbon dioxide or carbon monoxide?
Has the percent weight of the oxidation inhibitor decreased?
There are several things to consider when trying to prevent transformer failure, including gas generation, oil breakdown, dielectric breakdown voltage, degree of polymerization, electrical stresses, chemical tests, and the list goes on. We can help you answer these questions and eliminate the guessing game when it comes to transformer reliability. Contact us for a free consultation about how to get an accurate picture of the condition of your transformers.
Transformer Testing with SDMyers
No single transformer oil test is sufficient to define all known conditions. We offer customers a broad range of test packages based on their specific needs, providing the most effective transformer testing methods to diagnose your transformer's condition.
Liquid test packages that target every condition for every type of transformer
Testing for both mineral-oil-filled and alternative-liquid-filled transformers
Qualified and trained field technicians pull standardized oil samples
The world's largest dielectric liquid testing lab for transformers
Dielectric liquid testing that meets ASTM industry standards
Follow NFPA 70B standards for electrical equipment maintenance


Whether you manage a single unit or an entire fleet of transformers, connect with a dedicated transformer testing expert for a free consultation.
Get Free Consultation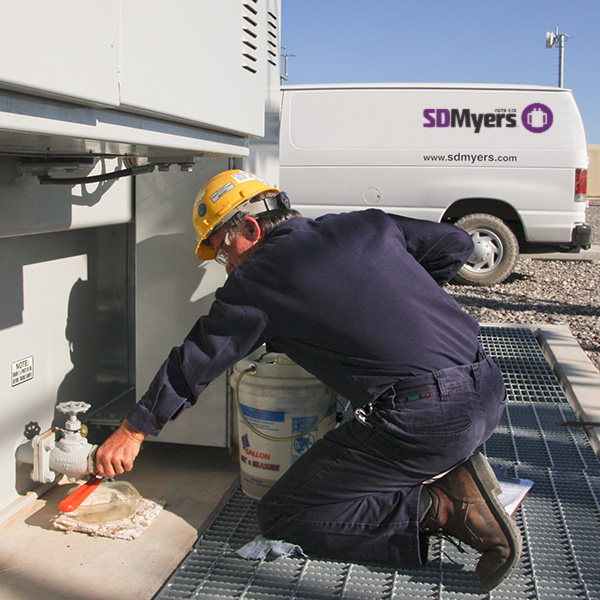 Transformer Uptime + Longer Life = Serious Savings
A well-maintained and serviced transformer can last over half a century—supplying all the uninterrupted power you need. There have even been a few in our care that have lasted over 100 years! While we can't guarantee a century of uninterrupted service, we can help you optimize asset life. Major contributors to extending asset life are annual transformer liquid sampling, testing, and diagnostic analysis, which helps you achieve maximum uptime and reliability. The greater the reliability, the longer the life. The longer the life, the greater the savings.
Preventing downtime is much more cost-effective than fixing something after it breaks. A reactive approach will always cost organizations more because of the cost of downtime that occurs after an unplanned outage. In 2018, a Machine Metrics article cited a project by Aberdeen Research, saying, that 82 percent of companies have experienced unplanned downtime over the past three years, and that unplanned downtime can cost a company as much as $260,000 an hour. It's not the cost of the asset that's the issue—it's the cost of downtime while you wait for the replacement to be installed.
Protect Mission-Critical Equipment with Transformer Oil Testing
Some transformers require close monitoring due to their condition, cost, scarcity or uniqueness, or the critical nature of the equipment they power. SDMyers offers a comprehensive range of tests that pinpoint faults and diagnose potential problems before they cause interruptions to operations. These tests will help you protect mission-critical equipment and maximize the life of your transformer.
Dissolved Gas Analysis (DGA)
DGA testing is the industry standard for detecting faults and key gases in a transformer—and knowing how results change over time is a must-have for reliability.
Power Factor
Liquid Power Factor is a measure of the dielectric losses in an insulating liquid when used in an alternating current electric field.
Inhibitor Content
A decrease in the percent weight of the inhibitor is strong evidence that something is happening inside the transformer.
Dissolved Metals
Inductively Coupled Plasma (ICP) spectroscopy data is used to corroborate DGA data and identify the location of fault conditions inside the transformer.
Furan Testing
Furan testing tells us about the condition of the solid insulation inside the transformer in a much less invasive way than taking a physical sample of the paper insulation.
"Transformer oil testing gives you insight into the true condition of your high-voltage equipment so you can make intelligent, cost-effective transformer management decisions."
— Jason Dennison | Director, Diagnostic Analytical Services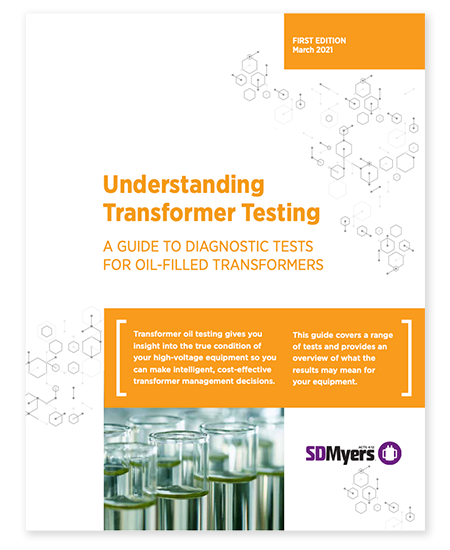 TRANSFORMER TESTING IS ESSENTIAL TO RELIABILITY
Quick Guide to Transformer Oil Testing: Understanding Your Results
Annual dielectric liquid testing and diagnostic analysis of the transformer insulating oil will help transformer owners keeps their fleet functional and extend asset life. Testing produces a lot of data, however, and it can be challenging to understand what all that information means. This guide walks you through all the tests for your power transformer, including testing for fault gases, dielectric breakdown voltage, Karl Fischer testing, liquid power factor, partial discharge, and more.
Download our handy reference to help you grasp the fundamentals of transformer oil testing and how your results can impact the reliability of your transformer. We'll also send you a few extra tips on how to maintain reliability beyond oil testing.
Download the Free Understanding Transformer Testing Guide
Frequently Asked Questions on Transformer Oil Testing
Why is transformer oil testing important?
Transformer oil testing gives you insight into the true condition of your high-voltage equipment so you can make intelligent, cost-effective transformer management decisions.
What is the recommended frequency for testing my transformer's dielectric liquid?
SDMyers recommends annual testing of dielectric liquid samples to provide critical data to pinpoint issues, diagnose potential problems, and prevent failures from happening. The standardization of NFPA 70B in 2023 means annual liquid sampling and testing is now a minimum requirement for transformer maintenance. However, depending on the criticality of your high-voltage equipment, more frequent or additional testing may be needed. Consult an SDMyers transformer specialist to determine what is best for your organization.
What safety procedures are involved with pulling a transformer oil sample?
SDMyers follows strict safety protocols to ensure the safety of personnel and to protect the equipment. Those safety policies are informed by our experience and industry standards, such as those issues by the National Fire Protection Association (NFPA) issues for protecting against Arc Flash.
What is dissolved gas analysis (DGA)?
The primary use of dissolved gas analysis (DGA) is a routine monitoring liquid test for electrical equipment. Incipient fault conditions—disruptions in the normal electrical and mechanical operation of electrical equipment—cause the insulating liquid to break down, generating combustible gases. The profile of those dissolved gases can be interpreted to diagnose whether fault conditions exist and how severe those faults may be.
Who pulls a transformer oil sample?
SDMyers has over 50 Mobile Diagnostic Technicians (MDTs) working nationwide to pull liquid samples for customers. They rely on 300 hours of expert training and follow strict safety protocols to protect the equipment they are working on and ensure their safety from electrical hazards. Liquid samples are sent directly to our analytical testing lab, where the internal condition of the transformer is documented, analyzed, and diagnosed.
What if I want to pull my own transformer oil sample?
SDMyers accepts mail-in samples from customers. Samples can be sent to our analytical testing lab for a regular turn-around time of 10-14 business days. Priority rush shipping is available upon request with a surcharge. To ensure mail-in samples are acceptable for testing, we recommend following all sampling and packaging procedures and completing an accurate field copy report. Liquid testing order forms and more information about mail-in samples for transformer oil testing are available from SDMyers customer service.
If I test my transformer oil, do I also need to do IR scanning?
Infrared (IR) thermography is a non-intrusive preventative maintenance inspection technique used to detect patterns and differences in thermal radiation. Combining infrared thermography with liquid sampling and DGA testing dramatically improves the accuracy of diagnosing potential issues as early as possible. Any temperature anomalies detected by the thermography can be cross-referenced with the results of the liquid analysis to provide a complete assessment of the transformer's health. In the recent 2023 release of NFPA 70B, annual IR scanning is now a standard for electrical equipment maintenance.
Get a Free Consultation with a Transformer Specialist
Reliable Dielectric Liquid Testing for Your Transformers
Take charge of your transformer reliability with transformer testing. Fill out the form below to connect with a transformer specialist at SDMyers and schedule a free consultation. This is the first step towards achieving maximum reliable life for your transformers.