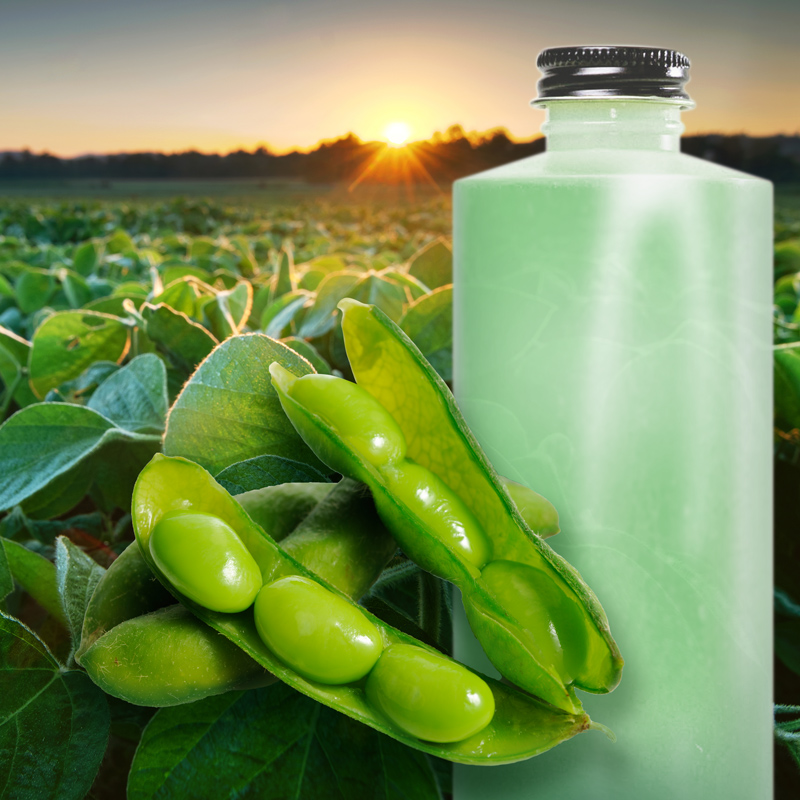 MINERAL OIL ISN'T YOUR ONLY OPTION
Mineral oil has long been the transformer liquid standard. However, natural ester liquid, a vegetable-based dielectric fluid, has been in use for decades and is becoming more common. Accepted industry-wide and in compliance with IEEE and IEC standards, natural esters can be used in power and distribution transformers, as well as certain substation equipment.
Improve fire protection, reliability, and the environment
Originally considered desirable for their environment-friendly characteristics, natural esters are now associated with performance benefits as well. SDMyers is an Authorized Service Partner of soybean-derived FR3® liquid, which offers higher fire and flash points to ease insurance challenges and has served as a substitute for fire suppression systems—even in indoor applications. FR3® liquids may in some cases provide natural self-drying properties that help reduce the moisture in your transformer's insulating paper, extending its reliable life.
How do natural esters compare to mineral oil?
While natural esters offer some clear advantages, they also come with a few considerations. For instance, natural esters are not suitable for arcing equipment such as LTCs or for any free-breathing equipment due to the likelihood that contact with oxygen and heat will increase the liquid's viscosity over time. It's best to evaluate your specific application's needs before choosing a transformer liquid.  
FR3® vs mineral oil, adapting:
MINERAL OIL
NATURAL ESTER (FR3® fluid)
Oil base
Petroleum
Seed/vegetable
Voltage class
High (AC/HVDC)
High (AC/HVDC)
Fire point
160°C
360°C
Flash point
145°C
330°C
Density at 20°C
880 kg/m3
920 kg/m3
Pour point
-40°C
-21°C
Temperature limits
(hottest spot)
110°C
130°C
Sludge formation
Yes
No
Environmental impact
Non-biodegradable, potential for toxicity
Biodegradable, nontoxic, rated non-hazardous in soil and water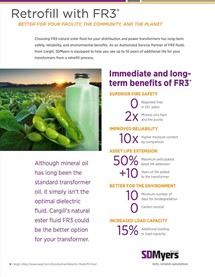 Download our FR3 Guide
If you have more questions, download our guide on Retrofilling with FR3.
Safe, compliant retrofilling services
If you determine natural esters are the right fit for your power needs, SDMyers can assist with retrofilling, including vacuum filling services. Our industry-leading team of highly trained field technicians follows clearly defined safety and quality control protocols supported by the liquid manufacturers and by current available IEEE standards. And, as an Authorized Service Partner of FR3® fluids, we are equipped with the knowledge and experience required to advise you on your options. Liquid providers and other technical sources recommend changing the gaskets at the time of retrofilling, as well as potentially updating nameplates and labeling with a "K" rating. Our team is on hand to help with these related tasks.
Testing and diagnostics for natural esters
Natural esters do not require the same test packages as mineral oil samples and partnering with a laboratory that understands these distinctions is essential. For example, SDMyers does not recommend dissolved metals analysis or particle counts for natural esters. While dissolved gas analysis (DGA) can still offer important condition data on natural esters, SDMyers adjusts the limits for certain gases.
GET IN TOUCH WITH AN SDMYERS SPECIALIST
With 50+ years of intelligent transformer management experience, we have the diagnostic and repair expertise you need. To learn more about on-site transformer repair services, contact an SDMyers specialist.