Access critical information about your entire fleet instantly with Transformer Dashboard, a web-based transformer management tool that helps you make intelligent, informed, cost-effective decisions about your equipment. Transformer Dashboard provides you with all the information you need in one place and features powerful graphing tools that help you spot trends in transformer health and recognize developing faults early. With Transformer Dashboard, you can access your data from anywhere with an internet connection and get an overview of your equipment, view rest results, and check on the process of your order. Transformer testing produces a lot of data. Transformer Dashboard simplifies that data into easily understood insights.
Get instant access to critical transformer info
Transformer Dashboard from SDMyers provides you with all the data you need about your transformers in one place and the powerful graphing tools to spot trends for long-term reliability planning.
Highly Customizable
View reports by detail type or data type, and see summary reports and rainbow reports at the click of a mouse.
Intuitive Layout
The dashboard is exceptionally simple to use. Get quick access to recommendations and learn the status of every transformer in just one step.
TRANSFORMER DASHBOARD 6.0 IS HERE
It has never been easier to quickly understand your transformer test data and act on it. The 6.0 release of Transformer Dashboard includes dozens of updates to current tools, a dynamic and customizable tile layout, advanced reporting features, and simplified one-click access to our 50+ years of transformer maintenance expertise.
Transformer Dashboard 6.0 still is as intuitive and powerful as ever, but through research and customer feedback we've enhanced the user experience to help you make informed decisions quickly.
If you are a current Transformer Dashboard user, the best part is that your Transformer Dashboard 6.0 is already set up and ready to go. Simply go to your new dashboard and start using it immediately.
Accomplish electrical system reliability with transformer dashboard premium
To QUICKLY UNDERSTAND the condition of your equipment and ACT on the information, we've developed Transformer Dashboard Premium, which includes these optional upgrades:
Health Center: Color codes the summaries of your equipment, so you always know where you stand and can see which transformers pose no threat to your operation, which ones to watch, and which ones are at risk
Comparison Tool: Allows you to compare your equipment to similar pieces in your industry and use the comparative data to make maintenance decisions
Data Export: Allows users within your organization to download your testing data into a number of formats in order to transfer, share and analyze data seamlessly
Fleetview: If your organization is structured into multiple areas of responsibility, we help you to properly rank each facility or piece of equipment and assign responsibility centers so that alerts, email and reports reach the proper contact in the proper region, automatically.


Get transformer monitoring. Any time. Anywhere.
Transformer failure can cost millions in replacement costs and downtime. Transformer Dashboard® simplifies your transformer management by translating complex data into simple insights about the condition of your entire fleet.
An intuitive web-based platform.
Transformer Dashboard is web-based, so you don't need specialized software. You can access the dashboard from any device with a web browser and internet access. View your inspection and test results all in one place, and check to see how results compare over time.
Monitor your entire fleet at once
View individual transformers for more detail
Immediately respond to fault conditions.
Get a snapshot of all your equipment, navigating by detail and data type. Transformer Dashboard is color-coded and intuitive. If a unit is "At Risk," it is highlighted in red, and if a unit is "Satisfactory," it is highlighted in green. If needed, you can quickly access recommendations from SDMyers which prioritizes what step to take next.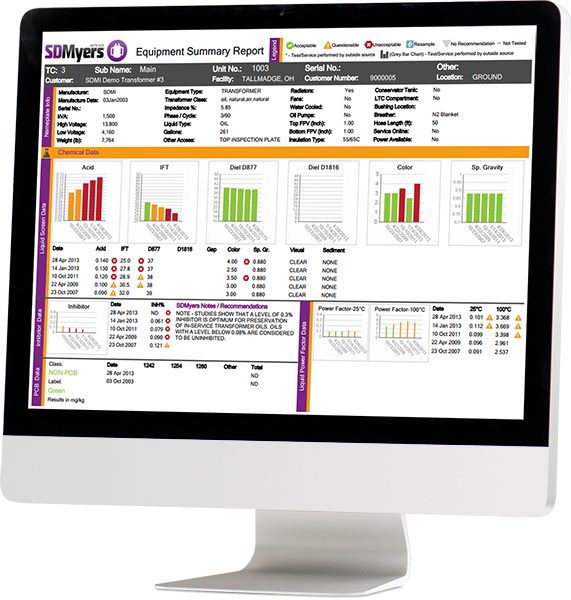 EXPERT ANALYSIS
Summarize results and analysis of your chemical, mechanical, and electrical data
HEALTH CENTER*
Rely on our expertise to give a health score on each of your assets in order to evaluate your risk and reliability
COMPARISON TOOL*
Compare your results to other similar units in your industry
DATA EXPORT*
Download your data into other file formats to integrate seamlessly with other equipment management systems
FLEETVIEW*
View Transformer Dashboard data in the way that your company is organized
GRAPHING
Visualize your test data to examine and interpret trends and changes
EASY TO USE
Customize the intuitive user interface to interact with your information more effectively
TAKE ACTION BUTTON
Request a consultation with an SDMyers expert right from your seat
REALTIME DATA
Realtime DGA monitor data integrates directly to keep asset information in one place
MEDIA
View relevant videos and articles relating to the condition of your equipment
ORDER STATUS
View and track the status of your testing order
WEB-BASED
Multiple-user access any time, anywhere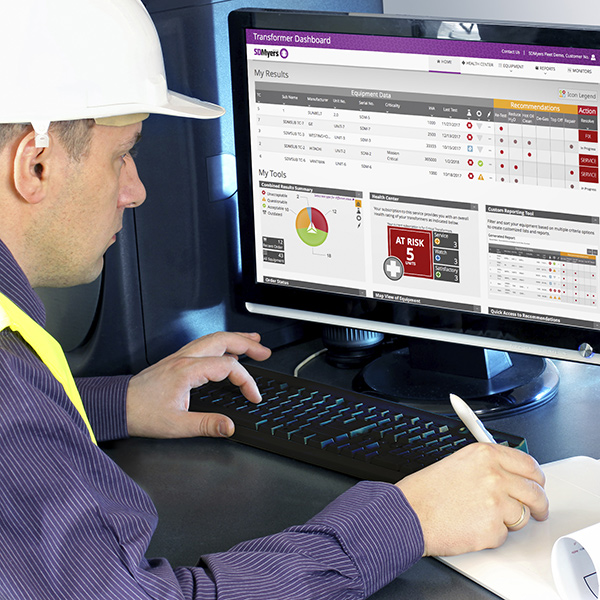 MAINTENANCE HISTORY
Add maintenance records for each piece of equipment
EDIT EQUIPMENT
Directly request nameplate changes
SAMPLING FORMS
Download pre-populated sampling forms to save you time and energy in the sampling process
REDUCE TURNAROUND TIME
View your information as soon as it's available; no waiting for reports to come in the mail
CUSTOMIZED REPORTING
Ability to sort transformers by attribute or recommendation to build custom lists to fit your specific needs
INFRARED SCANNING
Complete IR Report history available with images, reports and recommendations; downloadable PDFs available of each IR report and convenient photo-to-scan image overlays with interactive slider
TEST RESULTS
Current and historical data presented with our MaxLife classifications for each test and inspection item
DIAGNOSTIC EXPERTISE
Receive clear and accurate recommendations for each piece of equipment
PICTURES
View and upload pictures of your electrical equipment
ADD COMMENTS
Enter specific comments for any piece of equipment in the database
VIEW, PRINT AND MANAGE YOUR REPORTS
Transformer Dashboard provides an intelligent approach to transformer management and connects you to the transformer experts at SDMyers
*denotes Transformer Dashboard Premium services
Get in Touch
Request a Live Demo
To speak with a transformer specialist about how Transformer Dashboard® can help you make intelligent transformer management decisions, call us.
Call Today: (330) 630 7000