Access critical information about your entire fleet instantly with Transformer Dashboard, a web-based transformer management tool that helps you make intelligent, informed, cost-effective decisions about your equipment. Transformer Dashboard provides you with all the information you need in one place and features powerful graphing tools that help you spot trends in transformer health and recognize developing faults early. With Transformer Dashboard, you can access your data from anywhere with an internet connection and get an overview of your equipment, view rest results, and check on the process of your order. Transformer testing produces a lot of data. Transformer Dashboard simplifies that data into easily understood insights.
Having trouble viewing this YouTube video, please watch on Vimeo.
Plan your transformer maintenance with Health Center
To help distinguish between an unacceptable test result and the overall health of your transformer fleet, we've developed the Health Center. Health Center focuses on the overall health of transformers and prioritizes your test results through detailed analysis.
View your equipment with intuitive health scores: At Risk, Service, Watch, Satisfactory.


Get transformer monitoring. Any time. Anywhere.
Transformer failure can cost millions in replacement costs and downtime. Transformer Dashboard® simplifies your transformer management by translating complex data into simple insights about the condition of your entire fleet.
An intuitive web-based platform.
Transformer Dashboard is web-based, so you don't need specialized software. You can access the dashboard from any device with a web browser and internet access. View your inspection and test results all in one place, and check to see how results compare over time.
Monitor your entire fleet at once
View individual transformers for more detail
Immediately respond to fault conditions.
Get a snapshot of all your equipment, navigating by detail and data type. Transformer Dashboard is color-coded and intuitive. If a unit is "At Risk," it is highlighted in red, and if a unit is "Satisfactory," it is highlighted in green. If needed, you can quickly access recommendations from SDMyers which prioritizes what step to take next.
Access all your test data in the same place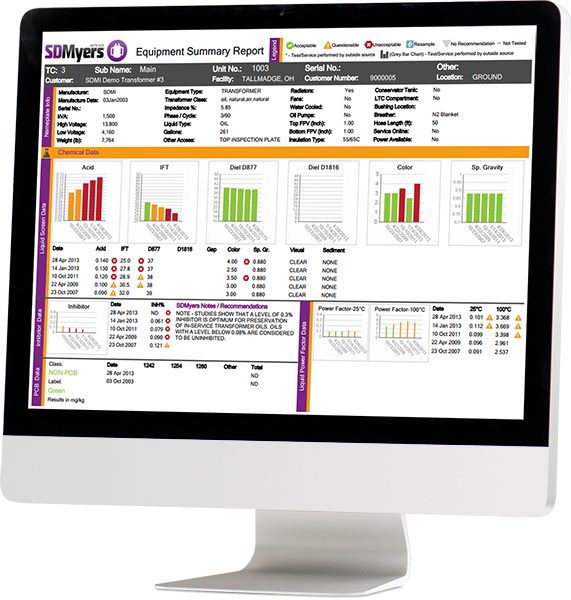 INFRARED SCANNING
Complete IR Report history available with image scans, report analysis and recommendations. Downloadable PDFs available of each IR report, and convenient photo-to-scan image overlays with interactive slider feature.
CHEMICAL, MECHANICAL AND ELECTRICAL ANALYSIS
Summary and detailed analysis of test data
INTUITIVE USER INTERFACE
Enhanced layout and graphics to increase for a better user experience
GRAPHICAL REPORTING
Filter multiple criteria, sort data by priorities and create customized graphical

reports

THE DASHBOARD


View

your equipment list with test and analysis summary, view recent orders, generate reports, and much more.

WEB BASED


Access

any time, anywhere, 24/7 by multiple users

REDUCE TURNAROUND TIME


Quickly receive access to your posted results rather than waiting for reports in the mail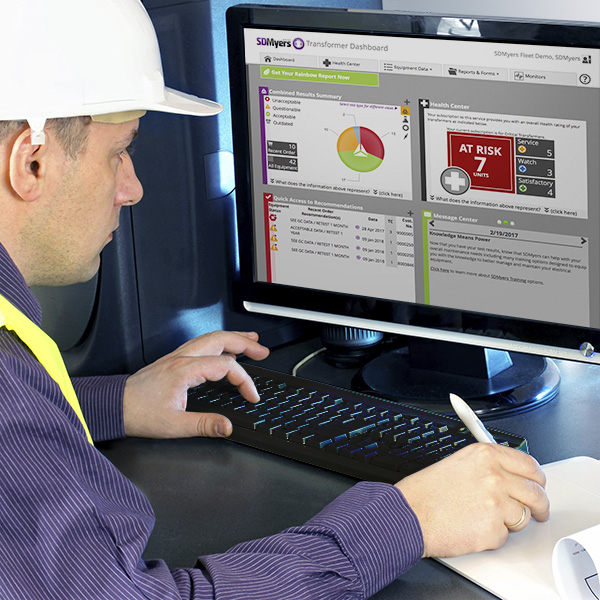 CUSTOMIZED REPORTING
Ability to sort on multiple transformer criteria (including serial number) and sort priorities specific to your needs
MULTI-LOCATION / MULTI-USER ACCESS
View Transformer Dashboard data the way your company is organized
MULTI-FUNCTIONAL GRAPHING
Graph your test data to examine and interpret trends and changes
TEST RESULTS
Details presented on each test performed, stored permanently on our secure server
EXPERTISE
Receive clear and accurate diagnostic analysis and recommendations for each transformer
EQUIPMENT PICTURES
View and upload pictures of your electrical equipment
CUSTOM COMMENTS
Enter specific comments for any piece of equipment in the database
VIEW, PRINT AND MANAGE YOUR REPORTS
Transformer Dashboard provides an intelligent approach to transformer management, and connects you to the transformer experts at SDMyers.
Get in Touch
Request a Live Demo
To speak with a transformer specialist about how Transformer Dashboard® can help you make intelligent transformer management decisions, call us.
Call Today: (330) 630 7000