ELECTRICAL RISKS AND HAZARDS
Protect your most valuable resource.
The stakes are high with electric power maintenance. Accidents or unseen faults can be fatal or cause life-changing injuries. The first step in keeping your people safe is understanding the risks that electric power systems pose. The primary risks associated with substation equipment include:
The explosive electrical discharge from an arc fault produces deafening noises, shrapnel traveling at supersonic speeds, and temperatures greater than the surface of the sun.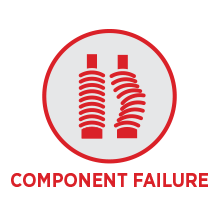 Faulty or damaged components can overload, creating arcs, shocks, and fire.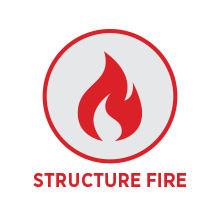 Oil-filled transformers pose a significant fire risk. Fires involving high voltage equipment are difficult to extinguish and can result in injury or a devastating loss of critical equipment.
Electric shocks from high voltage equipment can cause permanent, life-changing damage ranging from serious burns and loss of limbs to pain, numbness, and internal injuries.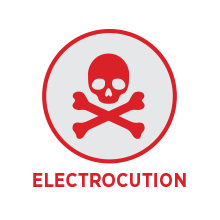 A fatal electric shock is a worst-case scenario.
SDMyers is working hard to dramatically reduce injuries and fatalities due to electrical inspections, and we have made a very solid start toward that goal.
4 Steps to eliminating hazards.
For more than half a century, SDMyers has worked alongside commercial and industrial organizations to keep their electric power systems reliable, safe, and cost-effective. We have the expertise, the data, and the foundational understanding you need to complete the process from start to finish. We recommend:
1. Know your assets, know your risk.
Begin with a thorough inventory of your equipment, starting with the transmission feed, through to the substation and distribution system, all the way into to the 480v panels in your facility. An audit of your electrical assets highlights current successes and reveals the hazards that often remain unseen or unaddressed. Additionally, don't underestimate the importance of a one-line diagram.
2. Implement safer processes.
Learn and follow the IEEE, NFPA, and OSHA guidelines for occupational safety around high voltage equipment. Navigating these guidelines can be complex but understanding the details will help you develop safer inspection and testing practices. Better practices mean a lower risk to your electrical system, your operation—and your people.
3. Prioritize the safety of your team.
Invest in safety beyond engineering controls and PPE. Electrical maintenance safety devices are easily installed (and often without the need to de-energize) and they do more than create a barrier—they move humans out of harm's way. This means that even if a serious incident should occur, such as an arc flash, everybody involved gets to go home at the end of the day.
4. Monitor and maintain your equipment.
Commit to a reliability program. One of the tenets of the maintenance industry is that a "safe plant is a reliable plant." Safety and reliability are two sides of the same coin. Regular testing and inspection of your equipment allows you to plan your maintenance budget and stay ahead of faults and issues, avoiding the risks involved with failure.
SDMyers has experts on-hand who can tailor this process to your business and make specific recommendations for your electrical equipment. Let us know if you'd like to set up a safety consultation.
Get in Touch
Find out more
To learn more about how electric power system safety can protect your people, get in touch with an expert today.
Call Today: (330) 630-7000