How should the Corrosive Sulfur test be performed? - Part 3
Technical Briefs
In Part 2 of this series, we discussed when the Corrosive Sulfur test should be performed. In Part 3, we will describe how the Corrosive Sulfur test is performed, the possible results, and our recommendation if the test result is Corrosive.
As noted previously in this series, the test method is ASTM D1275, Standard Test Method for Corrosive Sulfur in Electrical Insulating Liquids. A general overview of the method for copper corrosion follows: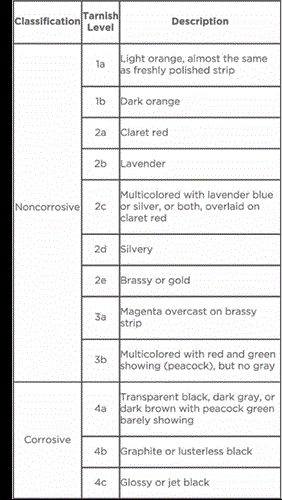 About 250 mL of the oil sample is put in a glass flask. A copper strip of particular purity is cut to the proper size. The strip is polished to remove all existing tarnish, and then bent into a V shape.
The prepared copper strip is placed on its edge on the bottom of the flask that contains the oil.
Nitrogen gas is then bubbled through the oil for five minutes to drive off oxygen.
The flask is quickly sealed and then put in an oven for 48 hours at 150°C.
After 48 hours, the flask is taken out of the oven, the copper strip is removed, the strip is cleaned of oil, and then the strip's color (tarnish) is observed.
The observed color of the copper strip is used together with the table to the right to classify the oil as Corrosive or Noncorrosive, and to determine the tarnish level:
It should be noted that the tarnish levels within the Noncorrosive classification are not to be considered progressively worse. For example, a tarnish level of 2e is not worse than a tarnish level of 1b.
The common characteristic of the Noncorrosive classification is that there is no gray, black, or dark brown on the ending copper strip.
The common characteristic of the Corrosive classification is that gray, black, or dark brown color is present on the ending copper strip.
The vast majority of Corrosive Sulfur tests we perform come out Noncorrosive. If, however, the result is Corrosive, then pending no contrary advice from the transformer manufacturer, oil supplier, or insurance company, our general recommendation follows:
If the risk of transformer failure from corrosive sulfur and/or the consequences of failure appear to be significant, then we recommend that the corrosive oil be replaced with oil that is deemed noncorrosive by ASTM D1275 and that contains a metal passivator. The metal passivator will not reverse damage already done, but will provide some protection for the coils and other metal parts in the transformer from reacting with any remaining corrosive sulfur after the retrofill. If it is not feasible to replace the corrosive oil, simply adding metal passivator to the oil will provide some protection to the transformer, but this will not be as effective as replacing the oil. Metal passivators are typically added to transformer oils at a concentration around 100 ppm.
Processing corrosive oil has not been found to be effective at removing the sulfur compounds which are the precursors of the corrosive sulfur compounds, so the real problem will still exist.