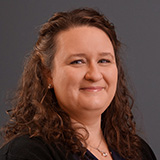 SDMyers' Traci Hopkins earns CRL certification
Fort Myers, Fla.
Traci Hopkins, senior T&E advisor with SDMyers, attended Reliabilityweb's Certified Reliability Workshop in Fort Myers, Fla., from March 18-22, 2019. The workshop was an intense exploration of the key elements of reliability leadership. It focused on five books that covered the Uptime Elements and two additional books authored by leaders in the reliability world.
The exam consisted of 125 multiple-choice questions to be answered within two hours. According to Hopkins, "This workshop delivered an incredible insight into the challenges and considerations that our clients must review when making decisions on the management and operation of their facilities."
The certification is valid for three years, and Hopkins is the first woman at SDMyers to achieve this certification.
May 01, 2019