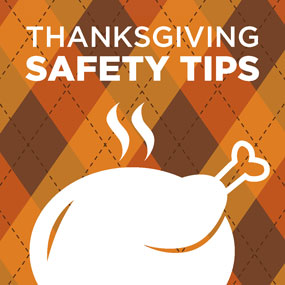 Thanksgiving Safety Tips from SDMyers
We are fast approaching the Thanksgiving holiday season, and safety is always on our minds at SDMyers. Here are a few recommended tips to stay safe, healthy, and happy this Thanksgiving.
1. Always set a timer and never leave cooking food unattended. It's like how we always say to monitor your transformer to reduce the risk of failure. Keep an eye on what you're cooking to prevent burning the turkey and getting banned from hosting next year.
2. Avoid wearing loose clothing or dangling sleeves while cooking. We know a thing or two about personal protective equipment (PPE), and when it comes to cooking Thanksgiving dinner, make sure you're wearing the appropriate clothing to prevent fires, burns, and mishaps.
3. Always use a meat thermometer. To ensure the turkey is thoroughly cooked, use a meat thermometer (165 F when inserted in the thickest area of the thigh) to know it's done. We have a lot of experience with monitoring temperatures on transformers. It's basically the same concept.
4. Don't use transformer oil to deep fry your turkey. Trust us—we're transformer oil experts. We recommend using peanut oil in the deep fryer to get the best flavor in your Thanksgiving turkey. Its high flash point makes it less likely to catch on fire. Plus, peanut oil is also relatively low in saturated fat, which helps to keep the fried turkey dish healthy.
5. Make sure your turkey is thawed and completely dry before deep frying. After 57 years of experience in dealing with moisture reduction in transformers, we know firsthand that oil and water do not mix. Hot oil from the deep fryer will splatter and cause burns if there is moisture in your turkey.
6. Use the right amount of oil when deep frying a turkey. Maintaining proper oil levels is just as crucial in your deep fryer as in your transformer. Check your levels and get a top-off when needed.
7. Get fresh air and physical activity outside with your family and friends. Lastly, getting outdoors for a little physical activity is always important. Get off the couch, enjoy a walk, exercise, and enjoy time with your family and friends.
If you're like us, you have much to be grateful for this year. We wish you a joyous holiday full of gratitude, good food, and (most of all) safety.
Happy Thanksgiving from SDMyers.
November 02, 2022