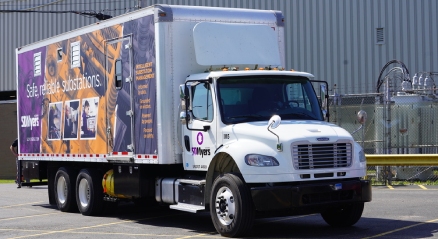 Our Newest Field Service Truck
The InsulMax No. 5 (IM5 for short) is our newest field service truck at SDMyers. She is a 26-ft box truck with an internally mounted vacuum oil purifier—making her the sixth truck in our versatile field service fleet.
The talented team at SDMyers worked hard over several months to convert an existing vacuum oil purifier (previously mounted on a pull-behind trailer) into the new box truck. Having IM5 in the fleet means SDMyers has added flexibility for scheduling, increased mobility while on site, and the ability to perform oil purification services safer and more efficiently for customers.
With a completely updated structure to handle equipment needs, here are some of IM5's highlights:
Safe and efficient vacuum filling service capabilities
Liquid (oil or FR3) can be pumped at 1,200 gallons per hour through 1" hoses
400-ft underbelly hose reel
Electric heat is powered by a separate 120 kW, 480V, 3-phase diesel generator
Additional space for oil storage or filtering system towers
SDMyers operates one of the country's most advanced fleets of mobile repair and oil processing rigs. Adding IM5 to the fleet expands our capabilities and allows us to service more customers. You might see her out on the road soon, and when you do, you can rest easy knowing world-class maintenance equipment is restoring your transformer to optimal condition.
August 08, 2022