Getting Started with Asset Reliability
Being Proactive Pays Off
Whether you manage a single unit or an entire fleet of transformers, the goal is to ensure operations run as efficiently and cost-effectively as possible—for as long as possible. However, the host of activities, tasks, and responsibilities related to managing and maintaining electrical power assets can feel daunting. Plus, the electrical system is just one of the dozens of systems on a to-do list that needs managing. Where should organizations start when it comes to their transformers?
Unfortunately, many organizations manage their transformer maintenance on a reactive break-fix approach versus a proactive reliability-centric approach. Preventing a breakdown is much more cost-effective than fixing something after it breaks. A reactive approach will always cost organizations more because of the cost of downtime that occurs after an unplanned outage. Downtime and replacement costs can range from $100,000 to $50 million for the breakdown of a $400,000 transformer. It's not the cost of the asset that's the issue—it's the cost of downtime while you wait for the replacement to be installed.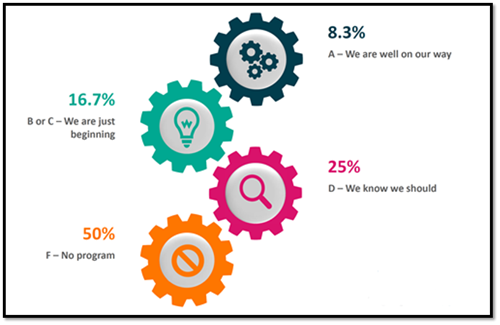 During a past focus group study, we found that 50% of organizations don't have an electrical power system reliability program. Another 25% know they should have a program but don't. Roughly 17% are in the beginning stages of developing a reliability program, and only 8% have adopted a proactive approach to electrical power system reliability. At SDMyers, we want to see this 8% number grow and partner with organizations ready to start with a proactive reliability-centered maintenance approach. Having this mindset is an investment that will pay off in the long run as you maximize the reliable life of your assets.

Having an effective and efficient program starts with the ability to prioritize. If we can gain an understanding of equipment criticality, condition, and risks, we can prioritize a proactive approach to managing the health of each transformer with these transformer reliability best practices.
Transformer Reliability Best Practices
1. Categorizing Criticality & Risk
Defining a fleet of transformers by their criticality, risk, and history makes it possible to prioritize the urgency with which to perform maintenance. We can develop a criticality ranking by asset class and categorize it into four distinct groups: Non-critical, Auxiliary, System Critical, and Mission Critical.

Once we have our criticality ranking by asset class, we can use past and current data (or gather additional data if you don't have recent and accurate information) to prioritize the current needs of the equipment based on that ranking. During this process, it is essential to ensure everyone involved is aware of the risks of doing nothing and that decisions made during this process will impact not only the long-term reliability of the assets but the entire culture of the organization.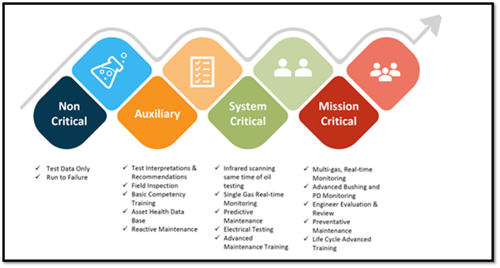 2. Dielectric Liquid Testing
The dielectric insulating liquid inside a transformer contains vital information about its health. Regular testing of insulating liquid can tell transformer owners what's going on inside and provide trending data. SDMyers pulls and tests thousands of liquid samples each year that provide critical data to pinpoint issues, diagnose potential problems, and prevent failures from happening.
3. IR & Visual Inspection
Infrared (IR) scanning uses thermal imaging cameras to detect high levels of heat (one of the transformer's greatest enemies). If a picture is worth a thousand words, a thermal image is worth even more. When used in conjunction with liquid testing and visual inspection, IR scanning provides additional data points for a comprehensive snapshot of your asset's condition. The early fault detection that comes with following IR testing standards helps organizations maintain electrical equipment safety, reliability, and performance to prevent failures and downtime.
4. Lab Analytics & Diagnostics
Maintaining a healthy, reliable transformer requires testing and diagnostic procedures to make informed decisions regarding proactive maintenance. Comprehensive analytical testing can identify virtually any transformer liquid issue. In SDMyers' lab, we can quickly and accurately identify the condition of the liquid insulation's relative density, dielectric breakdown voltage, dissolved gas content, oxidation inhibitor levels, and more. With this data, you can act on recommended solutions for detected problems and rest easy knowing which equipment is healthy and performing as it should.
5. Online Monitoring
Implementing remote observation through online condition monitoring is one of the most proactive activities you can take for your transformer. An online monitor can assess the health of your equipment with exponentially more data than standard routine liquid testing. It can deliver alerts, reduce maintenance expenses, and lower the risk of failure. Innovative real-time monitoring equipment can detect, analyze, and diagnose issues for your mission-critical transformers.
6. Safety & Reliability Solutions
The stakes are high with electric power maintenance. Understanding the risks associated with electrical power systems means you can anticipate them and, more importantly, implement proven practices to prevent hazardous conditions from happening in the first place. Organizations can be proactive in understanding safety risks to keep their electric power systems reliable, safe, and cost-effective. Additionally, transformer owners can eliminate the threat of hazards and failures with engineered equipment, such as moisture reduction equipment, safer oil sampling options, and cooling systems.
7. Transformer Maintenance
Transformers require various maintenance tasks, including gauge and gasket replacement, leak repair, moisture reduction, and internal repairs. Partnering with experienced transformer experts can help organizations proactively prevent outages, reliability issues, and premature transformer failures. With routine field assessment, maintenance, and repairs from expert technicians and engineers, you can rest easy knowing your operations will have uninterrupted power for as long as possible.
Putting it All Together
A well-maintained and serviced transformer can last over a half-century—humming and supplying all the uninterrupted power you need. From the first liquid test through ongoing proactive testing, monitoring, and servicing, these best practices have been developed from over 58 years of transformer experience. Putting them into practice will help organizations execute a long-term strategy of achieving maximum transformer life.
May 08, 2023